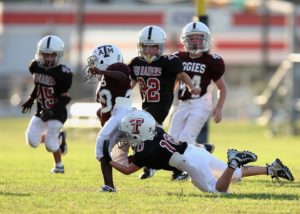 Concussions are a form of traumatic brain injury (TBI) and are a big concern in youth sports.  According to their website the Centers for Disease Control & Prevention (CDC) reports that children are more likely to get a traumatic brain injury, including concussion, and take longer to recover than adults.
They also go on to say that during the last decade emergency room visits for sports- and recreation-related TBI, including concussions, increased as much as 60% among children and teens.
Even though the rules of flag football are designed to minimize contact and maximize safety, accidents can and do occur.  That's why its important for coaches and parents to be knowledgeable about the prevention, recognition, and response to this type of injury.  To help you out the CDC website offers many resources and information about concussions, including a free online concussion training course called Heads Up: Concussion in Youth Sports.
Here are the main areas covered in the course as per the CDC website:
Understand a concussion and the potential consequences of this injury,
Recognize concussion signs and symptoms and how to respond,
Learn about steps for returning to activity after a  concussion
Focus on prevention and preparedness to help keep athletes safe season-to-season.
We recommend all coaches & parents take the time to complete this course.   It only takes 30 minutes and is a free course designed to teach some important facts about concussions and help keep your youth athletes safe this season.