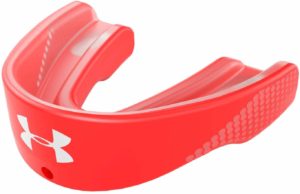 This is a short video review of the
Mogo Flavored Mouthguard
.
This item is a high density mouthguard that can be used for protection during youth sports such as flag football.
A mouthguard is a necessary piece of flag football equipment for your child as most flag football rules require all players to use a mouthguard. Even if they didn't it would not be wise to allow your child to play without one!
Flag football is a non-contact sport but accidents do happen unfortunately.
However that said, while a flavored mouthguard does add a little extra fun to the experience for your child – its not a requirement for the mouthguard to be flavored.
n the video I show the Mogo mouthguard next to a cheap football mouthguard so that you can see the difference in quality and fit. I also give a side-by-side view of the adult sized mouthguard versus the youth size so you can get an idea of the difference between the two.