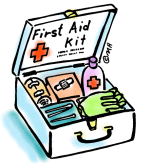 We could list lots of items that a youth sports coach needs,  but there is one piece of equipment that you should never be without when coaching flag football (or any sport for that matter).
The item I'm talking about is a basic First Aid Kit.  Often overlooked this item is a must have for any coach.
It is necessary to have a well stocked first aid kit with you at all times, at both games and practices.  Keep it in a handy place close to the playing area for emergencies.  Make sure your kit contains all the following essentials:
adhesive bandages, assorted sizes
sports tape roll
elastic bandages
instant cold compress
sterile gauze bandages
antiseptic
non-latex gloves
First aid instruction booklet
Check you kit regularly.  Make sure to replace missing or expired items.
It's also a good idea to keep contact information for your players and basic medical information on the child such as allergies or specific needs with your first aid kit

Remember while flag football is meant to be no or low contact and the rules of flag football are designed with safety in mind, the fact is that injuries can and do occur.  As a coach you should also make safety a primary factor for your players.   That means having the right equipment for flag football with you at all games and practices.
Need a First Aid kit? Grab one from Amazon