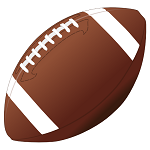 I always encourage parents to be involved with the sports that their child participates in. For my youth flag football players I recommend that the parents work 5-10 minutes a day just playing catch with their kids. It's fairly easy to accomplish and has a great benefit to the child as a skill and confidence builder.
When starting out you should be aware that footballs come in many shapes and sizes. As with all flag football equipment, its is important to know your options before purchasing. In this case the main factor is to make sure your child has the proper size football to practice with, as having a ball too small or to big will not be as good for skill development as a football of the correct size.
Below are the most common youth football sizes by age group.
5-8 y/o – Pee Wee Size
9-11 y/o – Junior Size
12-14 y/o – Youth Size
14+ y/o – High School Size
If you're in doubt or have trouble finding the correct size, ask the coach or a league official what size football will be used during actual youth flag football games.
Time to Get a Football
You should consider buying one and practicing a bit.
There are many sizes in football (we're talking about the ball, not the player). But what matters more is the ball's fabric.
You can either purchase a leather football, which is made of pig skin – or you can pick a composite.
Leather is an excellent but expensive option. Also, it's what you're most likely using in a game.
However, it does have the drawback of moisture sensitivity. So if you're playing in a wet environment, your ball might absorb lots of water.
Now, this water absorption can ruin a game. After all, it makes a ball heavy. And you'll have a hard time throwing it around!
Basically, just take your time exploring ball options – and what pick what suits you best!