Perfect execution is the key to winning flag football.  Practice, however, is the key to perfect execution. The key to good practice is to keep it moving and keep your youth flag football drills FUN.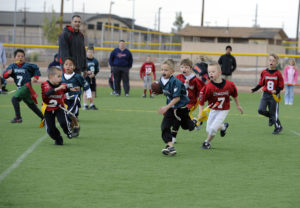 Although its safe to say that if you want to be good at something it requires practice, practice and more practice, we don't want to bore our youth players with dull receptiveness.  With that in mind its a good idea to start slow and focus on the basic flag football drills, and as the season progresses add complexity and variation to your practice plan and drill selection.
Below we have placed our flag football practice drills in to groups for easy selection:
Basic Skills – This category covers the very basics putting the ball into play, taking a hand off, catching and running drills.
Advanced Skills – For drills involving route running, pattern recognition, and flag pulling
Games – Fun flag football game ideas for kids that will also help increase conditioning and build skills.